passive solar, sustainable living, going green, organic gardening, self-sufficiency, aquaculture, all-natural nutritious organic high-quality produce, companion planting, raising earthworms, beneficial bugs, fish farming, composting, growing mushrooms, natural pesticides, weed free waist-level gardening, natural fertilizer...
WHAT DO ALL OF THE ABOVE HAVE IN COMMON?
All of these are incorporated in the Biodome Garden. To learn more about this unique greenhouse read about it in THE BIODOME GARDEN BOOK, the modern-day homesteader's guide to constructing your own low-energy, earth-friendly, self-contained, passive-solar greenhouse and aquaculture unit that extends the vegetable growing season by several months to year round, depending on climate and zone.
To buy THE BIODOME GARDEN BOOK click on the following:
Color edition for $19.95
click here
B&W edition for $8.95
click here
WHAT A BIODOME GARDEN IS:
An organic growing unit capable of supplying animal and vegetable protein
A design of superior strength, engineered with a high degree of structural integrity;
A naturally humidified, non-electric and totally wind-powered ventilation system
A unit capable of absorbing, storing and radiating heat for a stable growing environment
A weed free, waist-level, moisture retaining, potting soil passive solar greenhouse

WHAT A BIODOME GARDEN IS NOT:
A place for germinating plants to be "replanted" somewhere else
A flimsy structure highly susceptible to wind "beating"
A unit requiring extensive ventilation and humidifying systems
A "hot house" to wilt and bake plants
A vegetable bed requiring tiling, weeding and crouching
A garden needing extensive watering and daily care

WHAT OTHERS ARE SAYING ABOUT THE BIODOME GARDEN
"Even before the advent of biodomes, experimentation had already begun with domed enclosures that could sustain year-round gardens. At the forefront was Patricia Watters, author of the "The Biodome Garden Book," the premier book on passive-solar biodome greenhouse gardening. When Watters constructed her first biodome garden 30 years ago, even the most forward-thinking gardening communities hadn't conceived of a solar-powered, weed-and-pesticide-free, waist-level greenhouse capable of producing its own food (in the form of aquatic animals), which could, in turn, feed organically grown vegetables using minimal water."
Whole Life Times Magazine
"The Garden has just received some great news. Our submission to the City of Ottawa's 2013 Better Neighbourhoods Program for our Biodome Garden project is one of four successful submissions out a total of 42 applications. Our application won because it illustrated creativity and innovation, had the potential to showcase as a demonstration for other neighbourhoods, would benefit a range of neighbourhood stakeholders; and would be feasible in terms of time and scope."
City of Ottawa's 2013 Better Neighbourhoods Program
"
May as well start off with the most comprehensive food production system that I have ever come across. A wonderful lady named Patricia Watters has written a book on how to construct a system that not only produces produce, but also fish, (a great protein source) in an environment that does not require sprays or the traditional heating and electrical expenses associated with green house systems. The dome itself should fit into most back yards."
Geoff Lawton – Permaculture Innovator
"
The Biodome Garden, a special type of raised bed garden designed to incorporate companion planting and aquaculture, will be located entirely within the area currently provided by City of Ottawa to Brewer Park Community Garden. BPCG's vision for this project includes partnering with architecture and environmental studies students at local colleges and universities in designing and building the biodome garden, as well as, ultimately creating a space for experimental projects and educational programs."
Old Ottawa South Community Association

WHAT IS A BIODOME GREENHOUSE GARDEN?
The term biodome combines two words--biome, meaning a plant and animal community coexisting in a dynamic equilibrium, and dome, a large hemispherical roof or ceiling. Thus, a plant and animal community in a dynamic equilibrium, coexisting beneath a hemispherical roof. THE BIODOME GARDEN BOOK explores this concept, which has been incorporated into a unique, self-contained, low-energy biodome greenhouse design that needs no electrical ventilation or humidifying system, a unit that supports a mini-universe thriving with life. In THE BIODOME GARDEN BOOK, you will learn how to construct your own Biodome Garden.
Before building your Biodome Garden, it's important to understand what part each component of the Biodome Garden unit plays. With numerous photographs, as well as diagrams with alphabetical referencing, THE BIODOME GARDEN BOOK describes the basic principles of the Biodome Garden in relation to the unit as a mini-universe, including the passive solar and ecological principles involved, and the interaction between the plant and animal kingdoms within the Biodome Garden. Once the system as a whole is understood, customized adaptations can be incorporated for individual needs. Building a Biodome Garden is truly a labor of love, and once your garden begins producing nutritious organic (in the true sense of the word), produce free of pesticides and herbicides, it will all be worth while. Please proceed to the next page to learn about Passive Solar.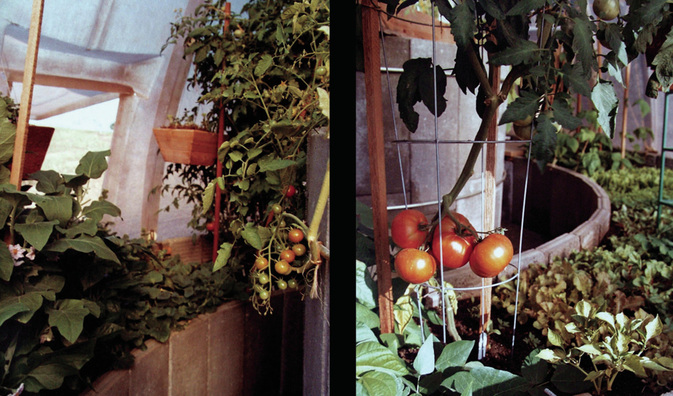 GOING DOMELESS: WAIST-LEVEL GARDENING
But if you're not a greenhouse gardener but still want to enjoy fresh, organic produce that is free of pesticides, herbicides and chemical fertilizers, and requires a minimum of stooping and bending, a Waist-Level Garden might be just the thing for you. Or... you can start with a 16' diameter waist-level garden base and add a dome later. If you choose this route and want to ad a dome later, be sure to include a "walk in" access area in the circular bed where the door to the dome will be placed. Fish tanks in several sizes are available for purchase. Please click on the "TO ORDER FISH TANKS" tab for sizes and prices. All tanks have curved bottoms with 3" center drains... a perfect place for a few pet koi that could be with you for the next 80+ years.

WAIST-LEVEL GARDENING is a handbook for constructing an easy-to-care for waist-level garden that's ideal for gardener of all ages, including those with physical limitations who are unable to get down on hands and knees to do what they enjoy most. Gardening. The book includes information on companion planting, preparing compost, organic fertilizers and bug repellants, growing mushrooms and earthworms, and a host of other information for any avid organic gardener.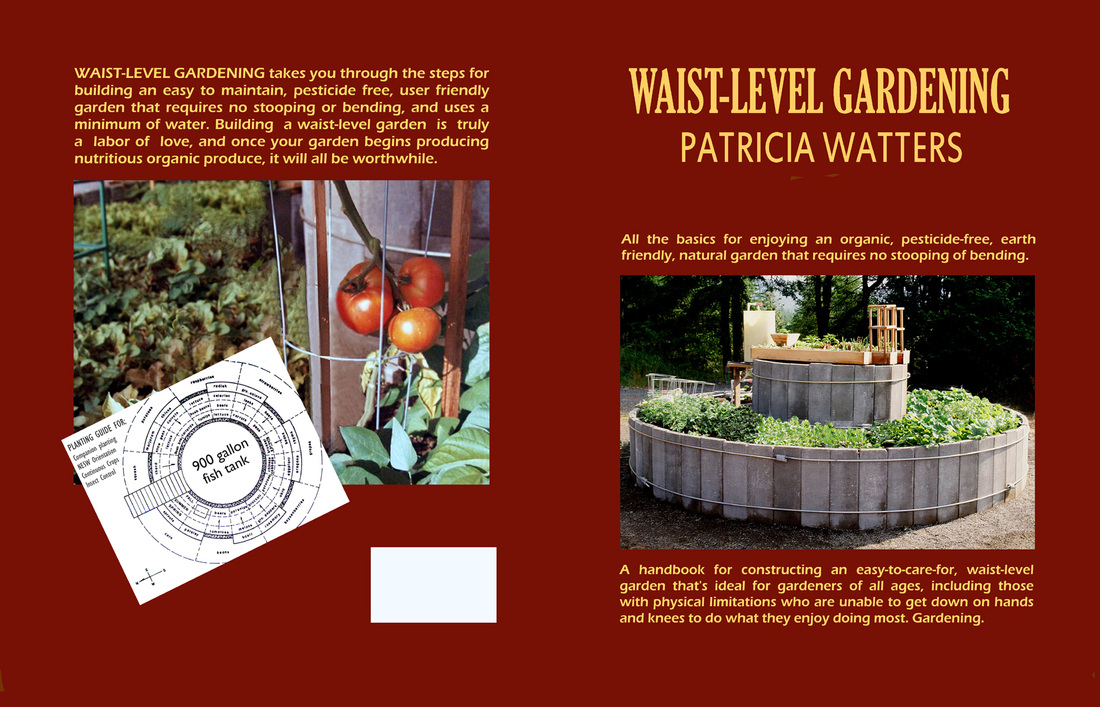 To purchase THE BIODOME GARDEN BOOK click on the following:
Color edition for $19.95
click here
B&W edition for $8.95
click here
To purchase WAIST-LEVEL GARDENING click on the following links:
Color edition for $17.95
click here
B&W edition for $7.95
click here